Diesel Engine Water Pump(C-series)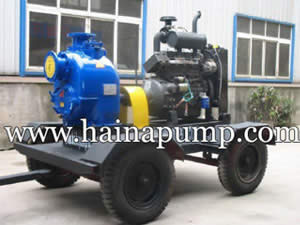 C series Diesel Engine Water Pump Function: handling sewage,corrosive liquid,slurries,debris;Stable performance, reliable operation.
C series Non-clogging Diesel Engine Water Pump is our latest developed product, and is suitable for the treatment project of municipal sewage and industrial sewage as well as stage treatment and concentrated treatment system of various sewages. It's known as King of Self-priming Sewage Pump, and the most ideal new-generation sewage product.

Operation condition
1.The temperature of medium no more than 80oC,the density of medium is 1.0~1.3*10 3Kg/m3 PH is within 5~9,
2.Max diameter of solid should be less than 75mm
3.Max suction lift no more than 7m.
1)Stable performance, reliable operation
2) Rapid self-priming, high suction head
3)Back-pull-out construction: convenient for maintenance and troubleshooting. Daily maintenance can be performed rapidly by common head tools, saving time and labor
4)Semi-open impeller structure and non-clogging design. Strong passing capacity, diameter of maximum passing solid for C-12 is 76.2mm
5)Convenient usage: the pump can be mounted high and dry at floor level, with only the suction line down in the liquid(the pump shall be filled with water for the first start).
Diesel Engine Water Pump Usage
1.Used for water, sewage,mud
2.Drive by diesel engine (water cooled,air cooled)
3.Self priming
4.can equipped with wheel (two wheel or four wheel)
5.Good quality and low price
Specification
1.Impeller Diameter: 158.75-457.2mm
2.Rotary Speed: 650-2900r/m
3.Flow rates: 46-1275m3/h
4.Head: 33-62m
5.Motor/ diesel engine: 1HP-125HP
6.N.W: 92KG-1066KG
7.G.W: 114KG-1250KG
8.Max Solid: 20.63-76.2mm
9.Metarial: cast iron
10. Diesel engine: DEUTZ, CUMINS,RICARDO, China brand.
11:Diesel Engine Water Pump Package: plywood case