Lube Oil Pump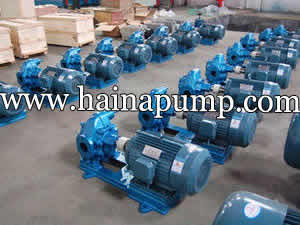 The lube oil pump models KCB type, YCB type and so on.Users need to choose according to their flow and pressure corresponding models of lube oil pump.
Lube oil pump Specifications:

1. Flow rate up to 570m3/h
2. Delivery head up to 250.0m
3.Viscosity of less than 1500cst
4. Power up to 250 kw 960-1400r/min
5. Suitable Medium:Various kinds of lube oil
6. Suitalber Temperature: Less than 200°C

Lube Oil Pump Materials:Cast iron, stainless steel
Introduction the KCB Series and YCB series lube oil pump.
Differences between the two: YCB series gear pump is quieter and use longer.
1:ZCK Series Lube oil pump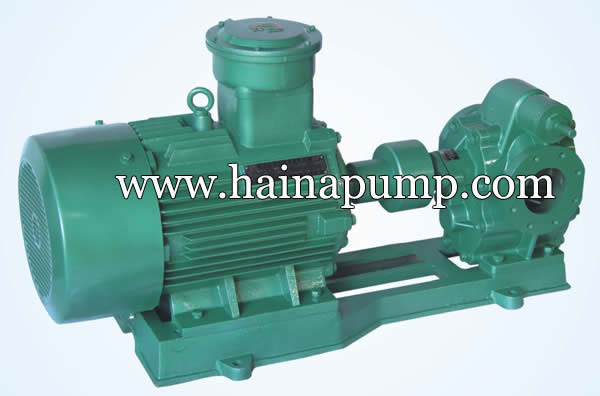 2:YKB Series Lube oil pump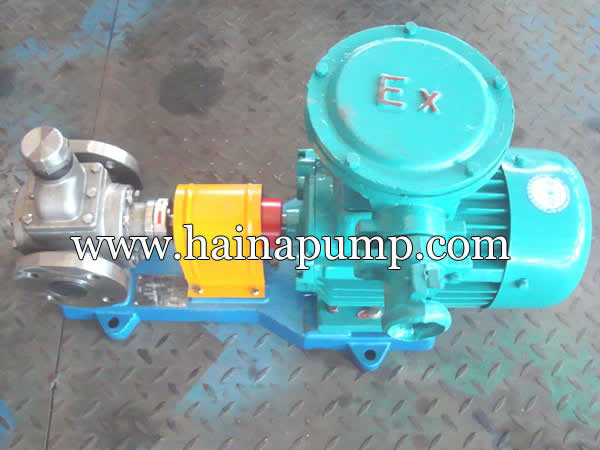 Model
Capacity
Speed
r/min
Exhaust
Pressure
Mpa
(NPSH)r
m
Caliber
(mm)

YCB

lube oil pump with Motor
m 3 /h
Hz
Power
kw
Model

YKB

0.6-0.6
0.6
910
0.6
5.5
25
50
0.75
Y90S-6
1.0
1390
50
0.75
Y80L2-4
0.7
1130
60
0.75
Y90S-6
1.2
1710
60
0.75
Y80L2-4

YKB

0.6-2.5
0.6
910
2.5
7.0
25
50
1.1
Y90L-6
1.0
1400
50
1.5
Y90L-4
0.7
1130
60
1.1
Y90L-6
1.2
1710
60
1.1
Y90S-4

YKB

1.6-0.6
1.6
910
0.6
5.5
32
50
0.75
Y90S-6
2.5
1400
50
1.1
Y90S-4
1.9
1130
60
1.1
Y90L-6
3.0
1710
60
1.5
Y90L-4

YKB

1.6-2.5
1.6
940
2.5
7.0
32
50
2.2
Y112M-6
2.5
1440
50
4
Y112M-4
1.9
1150
60
2.2
Y112M-6
3.0
1750
60
4
Y112M-4

YKB

3.3-0.6
3.3
940
0.6
5.0
40
50
1.5
Y100L-6
5.0
1420
50
2.2
Y100L1-4
4.0
1150
60
1.5
Y100L-6
6.0
1730
60
2.2
Y100L1-4

YKB

3.3-2.5
3.3
960
2.5
7.0
40
50
5.5
Y132M2-6
5.0
1440
50
7.5
Y132M-4
4.0
1170
60
4
Y132M1-6
6.0
1750
60
7.5
Y132M-4

YKB

4-0.6
4.0
940
0.6
5.0
50
50
1.5
Y100L-6
6.0
1420
50
2.2
Y100L1-4
4.8
1150
60
2.2
Y112M-6
7.2
1730
60
3
Y100L2-4

YKB

4-2.5
4.0
960
2.5
7.0
50
50
5.5
Y132M2-6
6.0
1440
50
7.5
Y132M-4
4.8
1170
60
5.5
Y132M-6
7.2
1750
60
7.5
Y132M-4

YKB

8-0.6
8.0
960
0.6
5.0
65
50
3
Y132S-6
12.0
1440
50
5.5
Y132S-4
9.6
1170
60
4
Y132M1-6
14.4
1750
60
5.5
Y132S-4

YKB

8-2.5
8.0
970
2.5
7.0
65
50
11
Y160L-6
12.0
1460
50
15
Y160L-4
9.6
1170
60
11
Y160L-6
14.4
1760
60
15
Y160L-4

YKB

10-0.6
10.0
960
0.6
5.0
65
50
4
Y132M1-6
15.0
1440
50
5.5
Y132S-4
12.0
1170
60
5.5
Y132M2-6
18.0
1750
60
7.5
Y132M-4

YKB

10-2.5
10.0
970
2.5
7.0
65
50
11
Y160L-6
15.0
1470
50
15
Y160L-4
12.0
1170
60
11
Y160L-6
18.0
1770
60
18.5
Y180M-4

YKB

20-0.6
20.0
970
0.6
5.0
80
50
7.5
Y160M-6
24.0
1170
60
7.5
Y160M-6

YKB

25-0.6
25.0
970
0.6
5.5
100
50
11
Y160L-6
30.0
1170
60
11
Y160L-6

YKB

30-0.6
30.0
970
0.6
5.5
100
50
11
Y160L-6
36.0
1170
60
11
Y160L-6

YKB

40-0.6
40.0
970
0.6
5.5
125
50
15
Y180L-6
48.0
1180
60
15
Y180L-6

YKB

50-0.6
50.0
970
0.6
5.5
125
50
22
Y200L2-6
60.0
1180
60
22
Y200L2-6

YKB

60-0.6
60.0
1470
0.6
5.5
125
50
22
Y180L-4

YKB

80-0.6
80.0
980
0.6
5.5
150
50
30
Y205M-6
Lube oil pump
can be divided into gear and screw pumps