KCB Gear Pump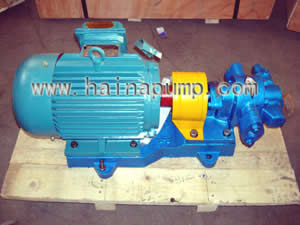 KCB gear pump flow range 1-570 cubic meters per hour. Heiner KCB gear pump sold throughout the world.
Product Description
Basic Info.
Model NO.: KCB Gear pump
Position of Pump Shaft: Horizontal Pump
Working Pressure: Low Pressure Pump
Impeller Number: Single-Stage Pump
Export Markets: Global
Additional Info.
Packing: Wooden Case
Flow: 1.1m3/h~570m3/h
Discharge pressure: 0.28Mpa~1.45Mpa
Speed: 720rpm~1400rpm
Dia of inlet & outlet: 3/4"~350mm
KCB gear pump Aplication:
KCB gear pump applies to delivering non-corrosive lubricating-oil or equivalent liquid without solid particles and fibres at temperature below 300 centigrade and with the viscosity of 5-1500cst.
Application Scope:
It can give performance as transferpump or booster pump in oil delivery system. It can be also applied as a fuel pump for delivery system, pressurization and injection in fuel supply system and in all industry fields as lubricating pump.
Structure Features
KCB series gear pumps are mainly composed of gears, axles pump body, pump, cap safety valve and axle-end seals etc. The heattreated gears have the advantage of higher hardness and intensity, and rotate with the axles inside the replaceable bearing sleeves. All of pump's parts can be lubricated by delivered medium when working.
The pump is properly designed with leakage and return chute, which lets the gears bear the least torque force and reduces load and wear on bearings bear the least torque force and reduces load and wear on bearings in order to raise pump's efficiency.
It is also designed with safety valve for protection against overload. The full return flow pressure of the safety valve is 1.5times higher than the rated exhaust pressure of the pump. It can be also adjusted within the allowance of exhaust pressure range according to circumstances.