Diesel pump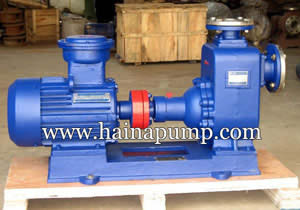 The CYB-S-type diesel pump is diesel oil transfer pump,diesel pump Features: explosion-proof, high efficiency.
Product Description
Product Name :Diesel transfer pump
The CYB-S-type diesel pump is mainly used for conveying, loading, unloading. Applicable to petroleum, shipbuilding, chemical, and other industries.Belongs centrifugal pump impeller is made of copper, explosion-proof effect;Pump supporting explosion-proof motor.Type CYB-S pump are used to deliver gas, kerosene diesel oil, etc. And the medium of tomperature with -20 deg C~ 80 deg C. It is a kind of load and unload oil pump in boat. And it is fitted in oil bunker, franker and of can be used to driven sea water and freash water.




Features:
Diesel pump belongs to self-priming centifugal oil pump, it's features are simple construction, easy operation, well moving, convenient repairing, high displacement, high efficiency and wide application slope etc.
Contruction
Diesel transfer pump is composed of suction room store liquid room vortex room, liquid returning hole, gas adn liquid dividing roon etc. The pumps adopt the single row radial bal l bearings, and have the cooling room in the bottom of the bearing stand, and a seal ring is used between the high press and low press area in the pump. They adopt mechanical seals on shaft end.
No.
Model
Capacity

head
m
Pump
NPSH
m
Self-priming
min/5m
Speed
r/min
Shaft
power
kw
Diameter
mm
Diesel pump with Motor
m 3 /h
L/min
Model
Power
kw
1
CYB-S-25-27
3
50
27
3
3
2900
0.6
25
YB801-2
0.75
2
CYB-S-40-20
6.3
105
20
3.5
2
2900
0.88
40× 32
YB802-2
1.1
3
CYB-S-40-40
10
167
40
3.5
1.5
2900
2.8
50× 40
YB112M-2
4
4
CYB-S-50-12
15
250
12
3.5
2.5
2900
1.1
50
YB90S-2
1.5
5
CYB-S-50-20
18
300
20
3.5
2
2900
1.8
50
YB90L-2
2.2
6
CYB-S-50-35
14
233
35
3.5
1.5
2900
2.7
50
YB112M-2
4
7
CYB-S-50-50
12.5
208
50
3.5
1.5
2900
4.3
50
YB132S1-2
5.5
8
CYB-S-50-60
15
250
60
3.5
1.5
2900
6.3
50
YB132S2-2
7.5
9
CYB-S-50-75
20
333
75
3.5
1.5
2900
9.9
50
YB160M1-2
11
10
CYB-S-65-15
30
500
15
4
2
2900
1.92
65
YB100L-2
3
11
CYB-S-65-30
25
416
30
4
2
2900
3.2
65
YB112M-2
4
12
CYB-S-80-13
35
583
13
4
3.5
2900
1.9
80
YB100L-2
3
13
CYB-S-80-17
43
716
17
4
2
2900
3.1
80
YB112M-2
4
14
CYB-S-80-25
50
833
25
4
1.5
2900
5.2
80
YB132S2-2
7.5
15
CYB-S-80-32
50
833
32
4
1.5
2900
6.8
80
YB132S2-2
7.5
16
CYB-S-80-55
60
1000
55
4
1.5
2900
15.0
80
YB160L-2
18.5
17
CYB-S-80-70
60
1000
70
4
1.2
2900
20.1
80
YB180M-2
22
18
CYB-S-100-40
100
1667
40
4
2
2900
18.3
100
YB180M-2
22
20
CYB-S-100-65
100
1667
65
4
2
2900
27.7
100
YB200L1-2
30
21
CYB-S-100-75
70
1167
75
4
2
2900
24.2
100
YB200L1-2
30
22
CYB-S-150-55
160
2667
55
5
2
2900
38.1
150
YB225M-2
45
23
CYB-S-150-65
170
2833
65
5
1.3
1470
51.0
150
YB250M-4
55
24
CYB-S-200-63
280
4667
63
5
1.5
1480
75.1
200
YB280M-4
90
25
CYB-S-250-50
400
6666
50
6
1.5
1480
77.2
250
YB280M-4
90
26
CYB-S-300-50
500
8333
50
5
2
1450
77.2
300
YB280M-4
90
27
CYB-S-300-32
600
9999
32
5
2
1450
77.2
300
YB280M-4
90
28
CYB-S-300-20
800
13333
20
5
2
1450
77.2